Wausau News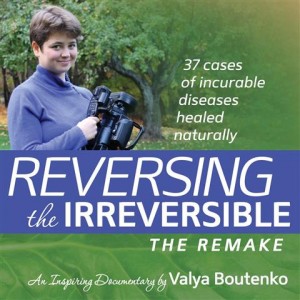 Victoria Boutenko's name is familiar to most of those living the raw food lifestyle. We all know Victoria for having launched the "green smoothie revolution." Her efforts first propelled her family to new levels of health. Then her research, books, seminars and retreats began a worldwide movement that's brought greater health, directly or indirectly, to literally millions. 
Every
 raw foods aficionado, from the beginner to the most advanced, owes a debt of gratitude to Victoria Boutenko.
Victoria's daughter, Valya, is a talented artist and filmmaker. Valya released a documentary film—Reversing the Irreversible—in which she interviews over 30 people offering stories of radical health improvement and triumph over disease, thanks to Victoria Boutenko's methods. Beyond informative, it's genuinely inspiringstuff.
Most of the interviewees are participants in Boutenko's "Joy for Life" retreats. You'll hear testimonials from each on how raw foods—green smoothies, especially—have changed their lives. Many…
View original post 200 more words